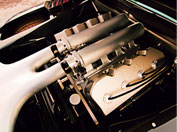 H is for horsepower...and hemi
The heart of the G-Force Cuda is an all aluminum 572ci Hemi. With a hand fabricated intake manifold mounting dual throttle bodies and NOS injection, the motor is as much a work of art as the car itself.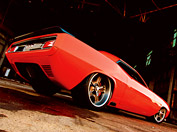 Official G-Force Cuda Gallery
From the build-up to the various photo shoots, see the G-Force Cuda in all its glory. Whether its parked or laying down a fresh set of rubber, this thing doesn't stop moving.